Welcome to Fairfield Performing Arts!
The Fairfield Performing Arts Department provides a variety of music performing opportunities to almost 300 students in grades 7 – 12.  Located just outside of Goshen, Indiana, Fairfield Community Schools serves the students in the communities of Benton, New Paris and Millersburg.  Over the past 25 years, Fairfield music ensembles have consistently distinguished themselves at the state level, earning numerous state finalist distinctions.  In addition, the Fairfield Performing Arts Department has received the Total Department Award from the Indiana State School Music Association for the past three consecutive years.
Upcoming Music Events
FMP Travels to Regional This Weekend!
The Fairfield Marching Pride will be at Chesterton High School this Saturday, 10/14/17 for Regional competition.  They perform at 1:36 PM.  Come cheer on FMP as they look to move on to Semi-State!
Show Choirs Prepare for Choral Tapestry, 10/29/17
Fairfield Show Choirs are excited to host the 6th Annual Choral Tapestry event at the historic Lerner Theater in downtown Elkhart on Sunday 10/29/17.  This concert brings together the choirs of Concord, Fairfield, Goshen, Northridge and Northwood High Schools in a collaborative musical production.  Tickets are $18 and are available through the Lerner box office (see link below).
Recent Music News
Fairfield Choir Earns ISSMA "All-Music Award"
For the sixth consecutive year the Fairfield Choir is the recipient of the Indiana State School Music Association's "All-Music Award."  In order to qualify for this award the choir department distinguished itself in 3 separate music festivals, solo and ensemble contest, state show choir finals and district organizational contest in the spring.  Congrats to the hard-working students and directors for this wonderful achievement!
Fairfield Choirs Earn Gold at ISSMA Organizational Contest

All four Fairfield choirs earned Gold ratings at ISSMA events in April of 2017.  Congrats to all involved!
Fairfield Show Choirs Finish Season Strong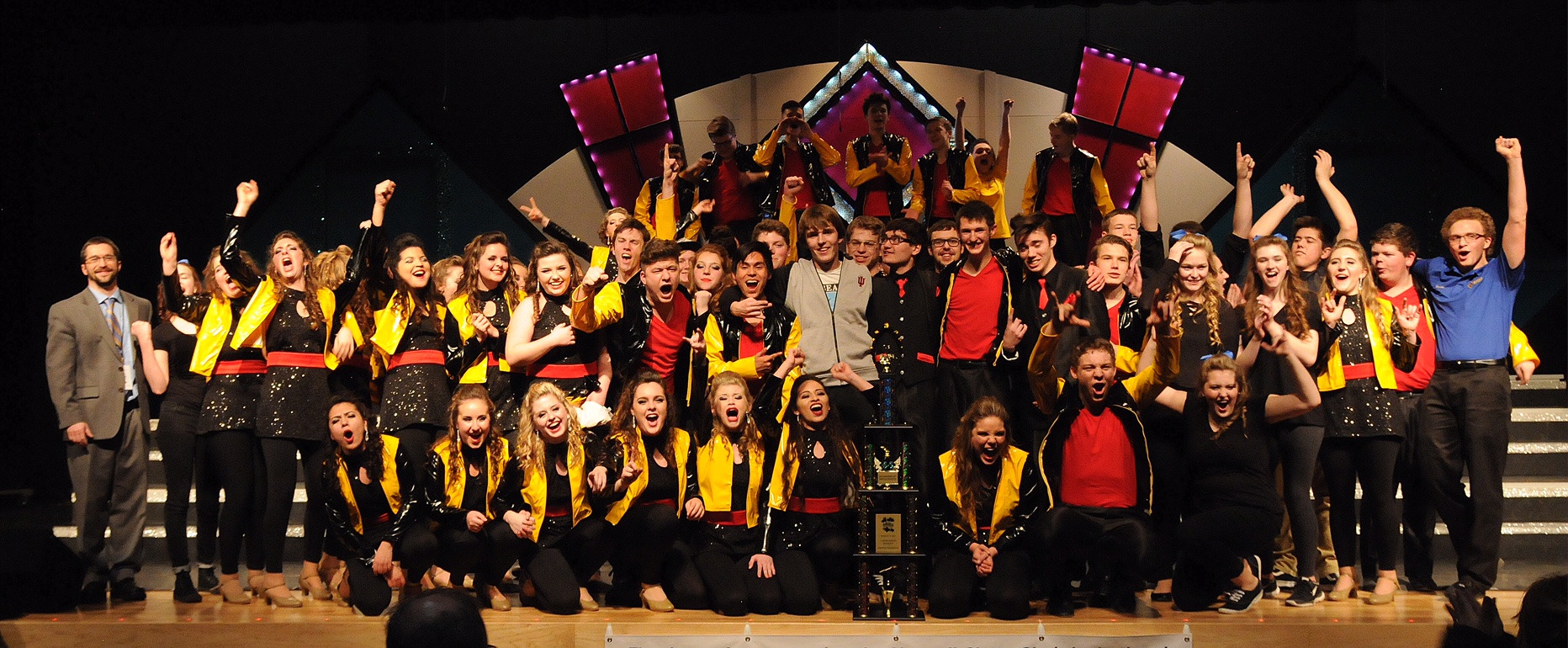 Fusion finished their competition season on March 18th with a sixth place finish at the 2017 ISSMA Class B State Show Choir Finals.  They finished the season with 3 Grand Championships, 1 First Runner-up and 1 Fourth Runner-up placement.
Expressions finished their season with a Grand Championship at the Norwell Invitational.  Their season ended with 2 Grand Championships, 1 First Runner-up and 1 Second Runner-up.
Sponsors