Welcome to Fairfield Performing Arts!
The Fairfield Performing Arts Department provides a variety of music performing opportunities to almost 300 students in grades 7 – 12.  Located just outside of Goshen, Indiana, Fairfield Community Schools serves the students in the communities of Benton, New Paris and Millersburg.  Over the past 25 years, Fairfield music ensembles have consistently distinguished themselves at the state level, earning numerous state finalist distinctions.  In addition, the Fairfield Performing Arts Department has received the Total Department Award from the Indiana State School Music Association for the past three consecutive years.
Recent Music News
Fairfield Fusion takes first place at Franklin Community Showfest!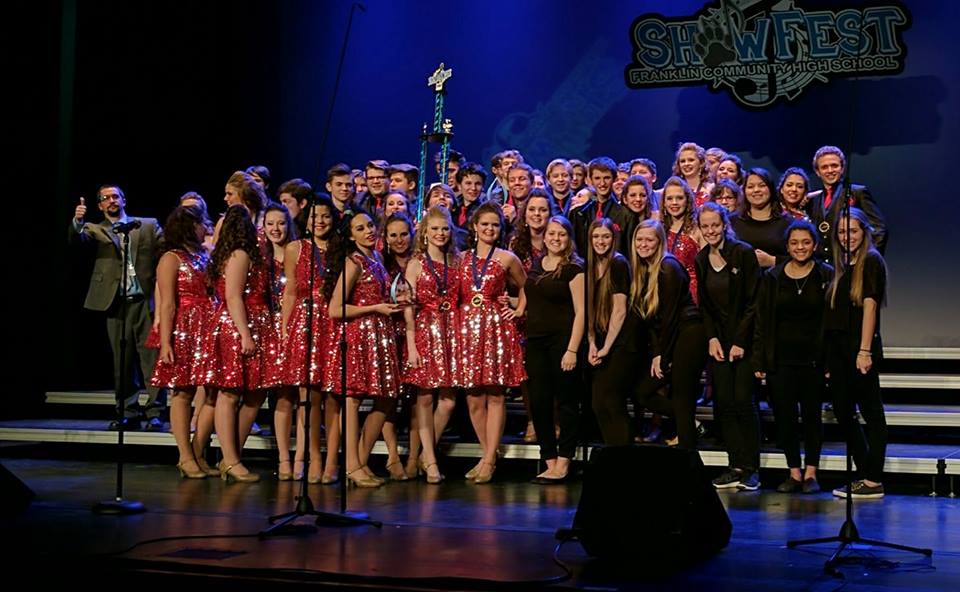 Fusion took best vocal and best visual caption awards on Friday, 2/3 on the way to a decisive victory at Franklin Community High School's Showfest.  They competed against 8 other schools and dominated the competition in their first competition of the 2017 season.
Fairfield Show Choirs February Calendar Available for download
Fusion and Expressions members are working hard to prepare for their competition shows. Below is a link to our February rehearsal calendar.
Upcoming Music Events
Fusion and Expressions to travel to DeKalb High School, Saturday, 2/11
Both show choirs will compete in the Varsity class at the DeKalb Show Choir Invitational this coming Saturday, 2/11 in Waterloo, IN.  For those wishing to attend, ticket cost is $12.00 for the
day session and $12.00 for the night session. An all‐day pass (including evening finals) will be sold for $17.00.  Expressions performs at 10:04 AM and Fusion at 2:12 PM.   DeKalb is just a short drive away…come see our show choirs in action!

An itinerary for choir members appears below.
Sponsors