Come see THE WIZARD OF OZ!!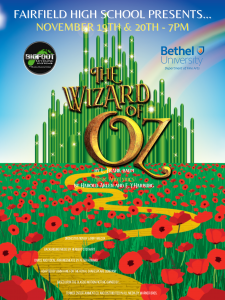 Come see The Wizard of Oz on November 19th and 20th at 7:00PM! Join Dorothy Gale as she journeys down the yellow brick road in a quest to return back home to Kansas after a wicked tornado whisks her a very long way from Kansas with her furry friend Toto. Along the way you will meet peculiar friends like the Scarecrow, Tinman, and Lion who are also on a mission the meet the Wonderful Wizard of Oz, as well as Glinda the Good, the Wicked Witch of the West, and many more!
Children/Students (With ID) $10
Adults $12
Welcome to Fairfield Performing Arts!
The Fairfield Performing Arts Department provides a variety of music performing opportunities to almost 300 students in grades 7 – 12.  Located just outside of Goshen, Indiana, Fairfield Community Schools serves the students in the communities of Benton, New Paris and Millersburg.  Over the past 25 years, Fairfield music ensembles have consistently distinguished themselves at the state level, earning numerous state champion and finalist distinctions.  In addition, the Fairfield Performing Arts Department received the Total Department Award from the Indiana State School Music Association from 2013 – 2015 and the Choir Department Award every year since 2012.
Upcoming Music Events & Recent News
Spring Concerts Scheduled for Band and Choir!
As of 5/5/21, we are planning to hold in-person, limited capacity Spring Concerts in the FJSHS Performing Arts Center.  Concert schedule is as follows:
5/14/21:  7:00  PM        6th Grade and Junior High Choir Concert                                                                                       
5/17/21:  6:00  PM        High School Band Concert          7:30  PM       6th Grade and Junior High Band Concert
5/21/21:   7:00  PM       High School Choir Concert and Senior Night
Seating requests will be sent out via Google Classroom. Students should be sure to share this information with parents and relatives so that we can accommodate as many audience members as is allowed.
2020 Christmas Programs
Due to COVID-19 restrictions, the Fairfield Music Department was unable to present their traditional Christmas concerts in person this year. However, members of the choir and band worked hard to present Christmas programs "virtually." 

The sixth grade choir created a collaborative project with each school's choir recording separately, then being combined "virtually" by using software. Their Christmas recording can be found by following the link below:
Let us Walk in Peace, FCS 6th Grade Choir
The Jr. and Sr. High School Choirs also performed together "virtually" this year. Singers recorded video and audio separately and they were combined using software. Many thanks to Mr. Zehr for combining the audio and to Brody Thomas for his marvelous work with the video editing. Please enjoy our performance by clicking the link below:
"Night of Silence," FJSHS Choirs 
"Night of Silence" by Daniel Kantor, arr. John Ferguson
Copyright © 1984, arr. © 1996 GIA Publications, Inc.
All rights reserved. Used by permission.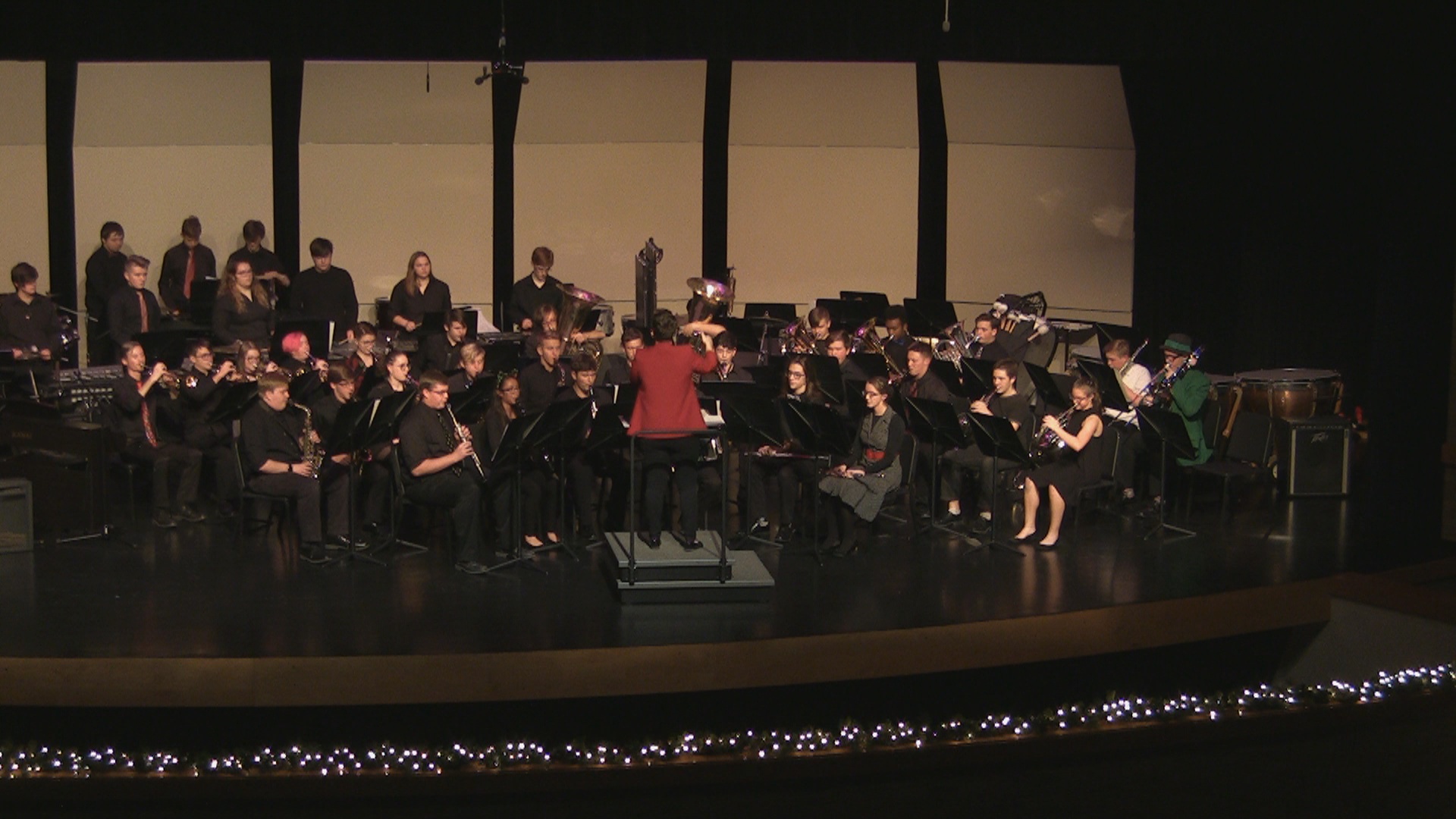 The bands came together at school and "socially distanced" themselves, playing in spread out formations in the gymnasium and the auditorium. Many thanks to Fairfield alum and videographer, Brooks Hochstetler who recorded and edited the performance. To view the band's Christmas program, click the link below:
Fairfield Bands Christmas 2020
2018-19 Music Highlights
Fairfield Fusion named ISSMA Class B State Champs!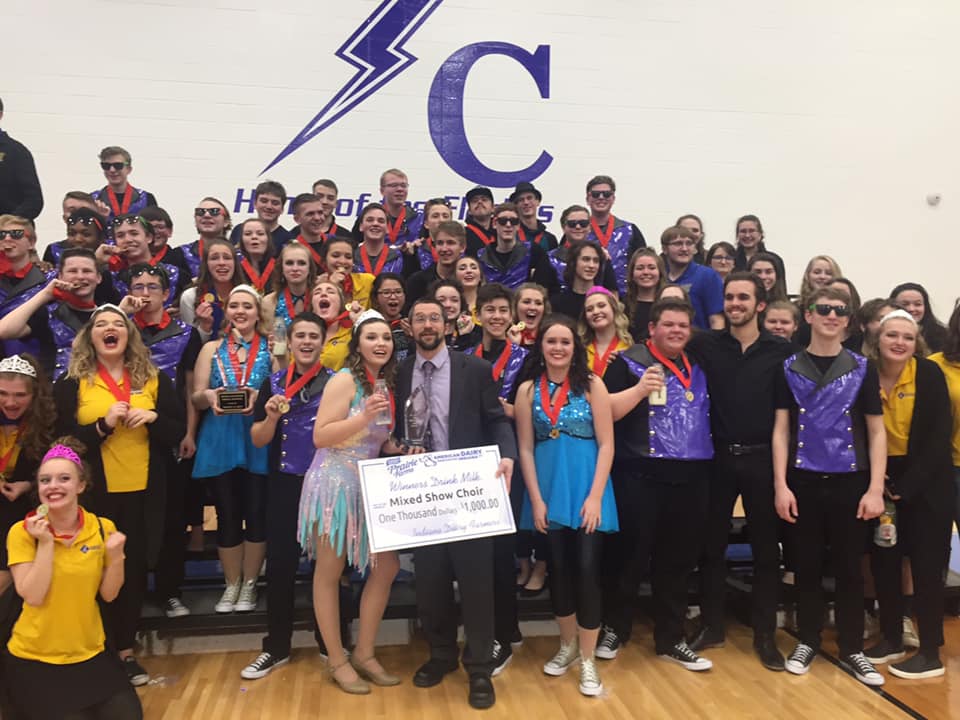 Fairfield Varsity Winter Guard is the State Champion of Divisional Regional A Class!!!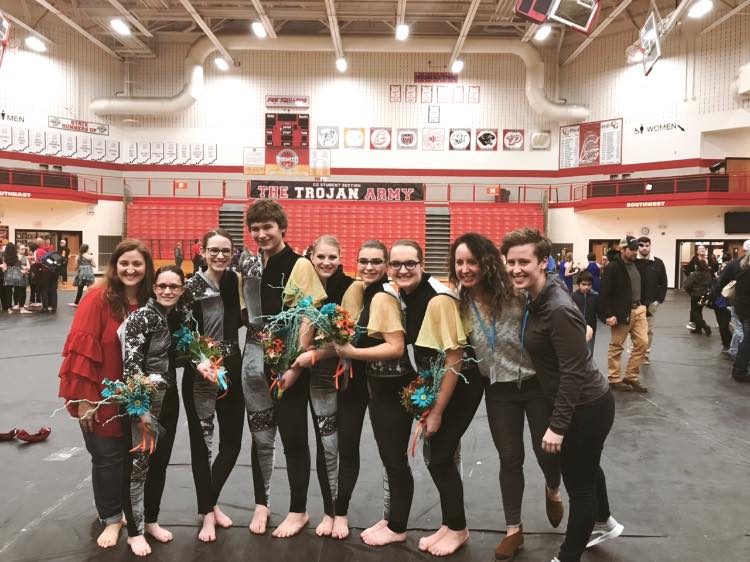 Fairfield Winter Percussion consecutively places in Top 3!!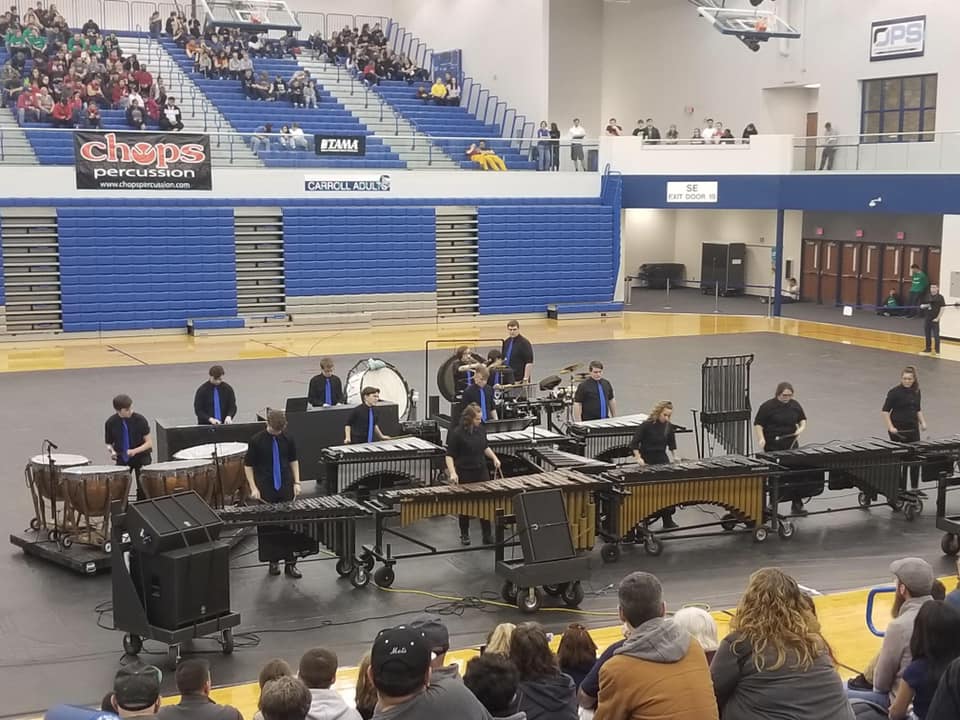 Fairfield Music Department Performs in Carnegie Hall!
On April 2, 2019, the members of the Fairfield High School Choral program and the High School Wind Ensemble performed at the New York Invitational Music Festival, held at the world-renowned Carnegie Hall.  The performers and directors thank all who helped to provide this once in a lifetime opportunity to our students.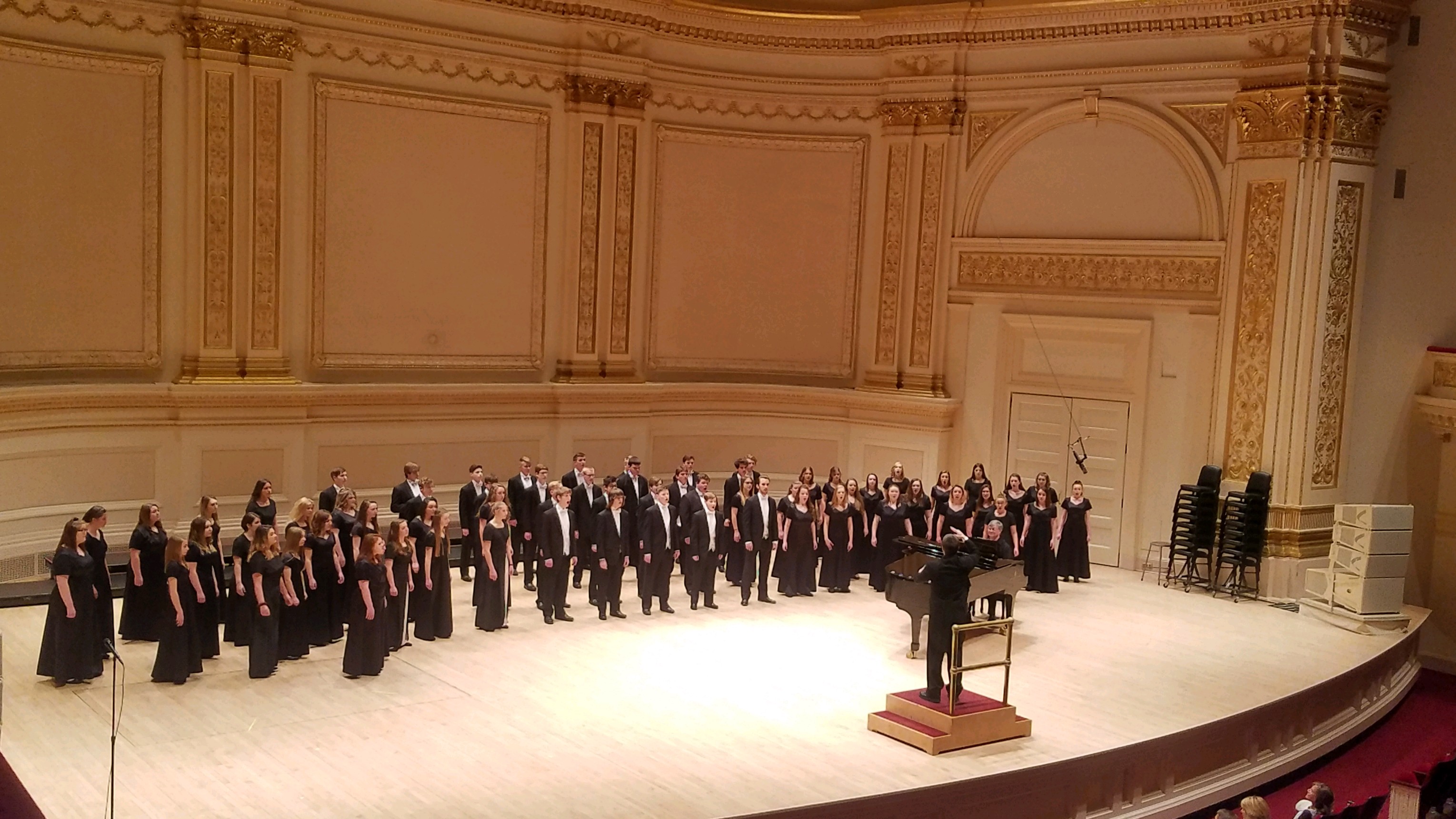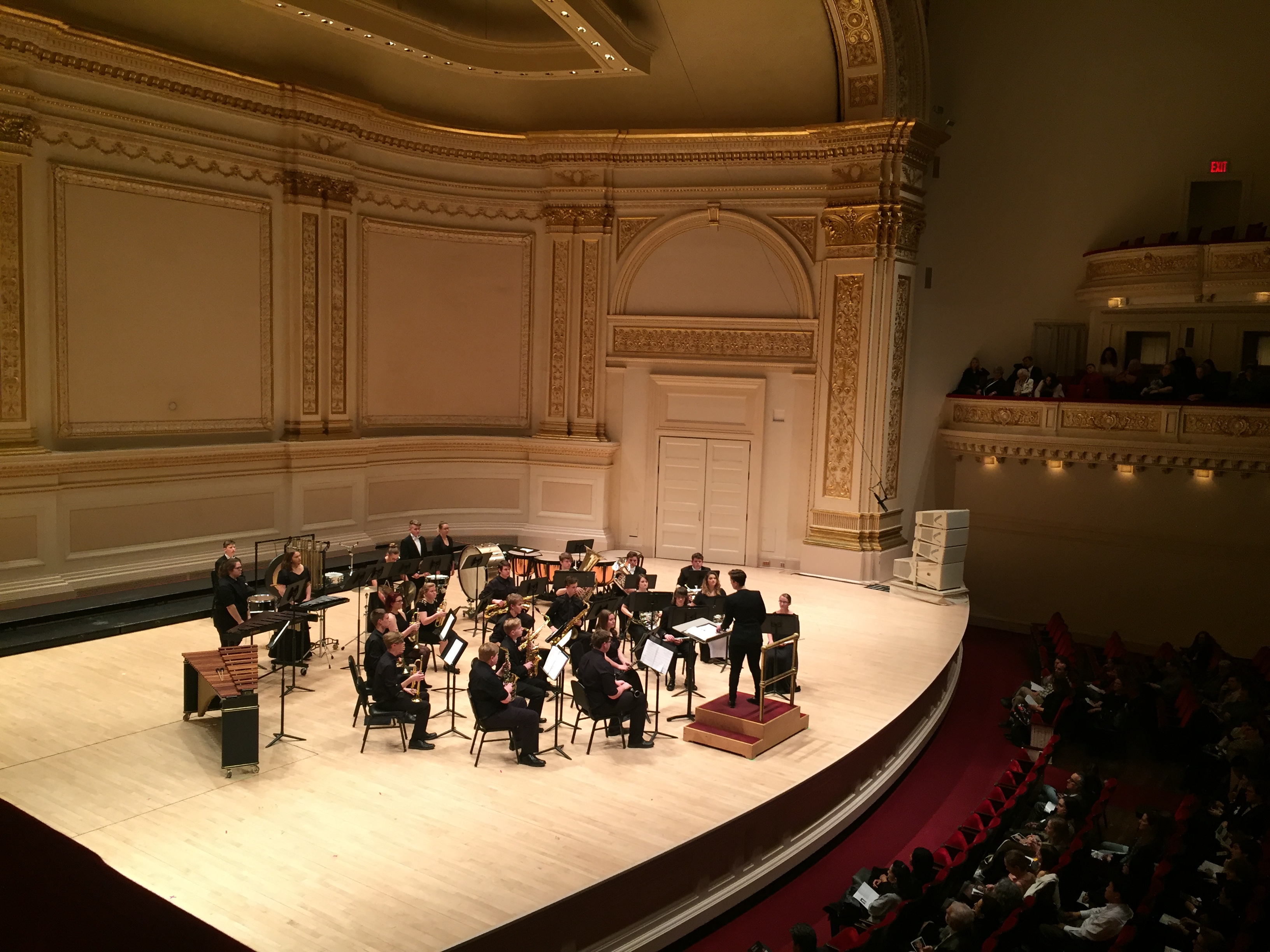 Sponsors